KIDZ PEDIATRIC SPEECH THERAPY
Our Pediatric Speech and Language Pathology services provides the evaluation, diagnosis, and treatment for children with language, articulation, feeding, and oral motor delays.
Our therapists are trained in research-supported techniques, including S.O.S. (Sequential Oral Sensory approach to feeding), P.R.O.M.P.T. (Prompts for Restructuring Oral Muscular Phonetic Targets) and Augmentative and Alternative Communication (AAC).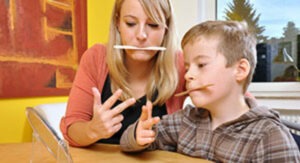 Common conditions we treat:
Articulation Delays
Motor speech difficulties
Expressive Language Delay
Receptive Language Delay
Oral Motor Weakness
Feeding Delays and Difficulties
Sensory and Motor Based Difficulties
Stuttering
Diagnoses we treat:
Cerebral palsy
Apraxia
Developmental Delay
Autism
Hearing impairment
Auditory Processing Disorder