KIDZ PEDIATRIC PHYSICAL THERAPY
KIDZ Pediatric Physical Therapy focuses on lower extremity function, enhancing core stability, and gross motor ability. We create individualized therapeutic programs based on comprehensive evaluations and evidence-based practices.
Our team approach provides the best results when parents/caregivers interact and work in close consultation with pediatricians, orthopedic surgeons, neurologists, coaches, and other interventionalists.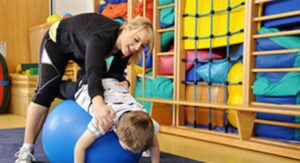 Common conditions we treat:
Developmental Delay
Coordination/Balance Disorders
Toe walking
Torticollis and/or Plagiocephaly
Post Trauma or Lower Extremity Surgery
Neurological impairments due to cerebral palsy, spina bifida, osteogenesis imperfecta, etc…
Various hip disorders such as hip dysplasia
Genetic Conditions
Sports injuries
Our treatments:
Motor control and motor learning
Gait training and supported weight-bearing
Manual therapy
Neurodevelopmental Treatment (NDT)
Strengthening and neuromuscular re-education
Plyometrics: Exercises that involve short and energetic movements intended to increase speed and strength
Kinesiotaping: The role of kinesio tape is to re-educate the neuromuscular system, minimize pain, optimize performance, prevent injury, and reduce edema by improving circulation and healing