KIDZ PEDIATRIC OCCUPATIONAL THERAPY
KIDZ Pediatric Occupational Therapy is designed to deliver functional skills to increase independence in their the home, school, and community. Our therapy programs are based around upper extremity functioning, fine and visual motor skills, and sensory motor integration.
Splinting evaluations and custom splints are available for patients who need them.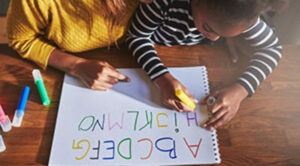 Common conditions we treat include:
Developmental Delay
Post Trauma or Post Upper Extremity Surgery
Neurological impairments due to cerebral palsy or chromosomal anomalies
Autism
Sensory Processing Disorder
Our treatments include:
Motor Control and Motor Learning
Sensory Integration and Sensory Stimulation
Therapeutic Listening
Handwriting without Tears®
Neurodevelopmental Treatment
Manual Therapy